History of Bethel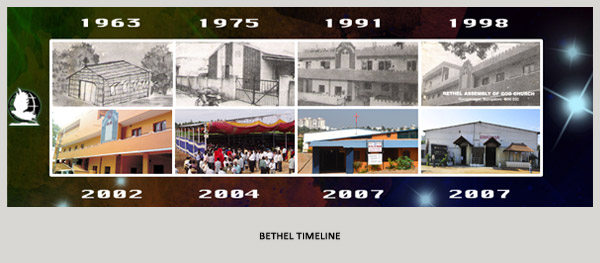 The Beginning - In March 1960, Rev. John Cherian, at that time, a faculty member of Southern Asia Bible College (SABC), with the company of a few college students, initiated a 'prayer fellowship' in Ganganahalli, Bangalore. That place was not far from the present Assembly of God Church in Ganganagar, Bangalore. Prayer meetings were held by this small group every week. Eventually a plot was purchased for the construction of a building for church in future at Ganganagar. It was Rev. John C. Wright, AG Missionary and Bursar of SABC who purchased this piece of land for the Church.
Initial steps forward - The first major event of evangelism, after purchase of the plot, was a conference which was held under a canopy in the summer of 1962. Rev. O.V.Dillingham, former Pastor of First Assembly Church, Bangalore, and Mr. Divakar, the Circle Inspector of Police for the City of Mysore, were the important speakers along with many others. Many new believers were added to the original nucleus of the emerging 'Assembly of God Church' at Ganganagar during this conference.
After some time, Bro. T.P. Varghese involved himself in the activities of this Church, and it was during that period of ministry that Bro.M.A.Varughese, the present Pastor, entered the ministry. Bangalore was not alien to Bro.Varughese who had often visited this city and stayed here on many occasions since January 1966. However, it was only in February 1981 that he and his family (wife and two sons) called Bangalore their home. He was an employee of the Indian Air force (IAF) at that time, patiently and prayerfully waiting for God's time and plan.
PR.M.A VARUGHESE RECOLLECTS…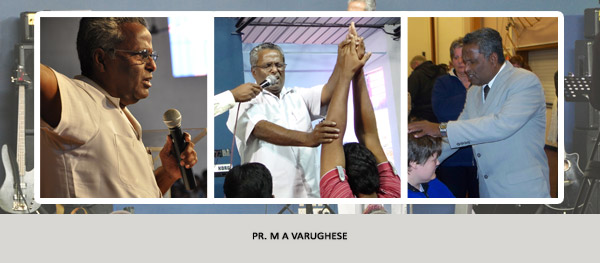 His journey - The Lord fulfilled His promise and made me an associate Pastor of Bethel Assembly of God Church in June 1983. Adverse winds began to blow against the church. I suffered from jaundice and I was weak. Critics, scandal-mongers, scoffers, and the like tried their best to demoralize me. But the Holy Spirit spoke to me very specifically and strengthened me in the watch night service on 31st December 1983. Satan attacked very furiously, being jealous of the growth of our church. But the good Lord protected us, so that the waters might not overwhelm us.
From the day I took over the complete responsibility of the church, it was decided not to involve those who are not filled with the Holy Spirit in any of the church responsibilities, works or leadership. Consequently, apart from preaching the Word, often my family and I had to carry out mopping of the floor and other works, all by ourself. But today things are quite different. The Lord has raised hundreds of anointed ones for the various duties of the ministry. New outstations were identified and new churches were established. The Lord saved many souls, and they were added to the church in large numbers. Today we have several units in the church, each one worshipping in different languages. The central district of Southern India Assemblies of God (SIAG) has recognized several of the Churches which were developed out of the outstation units of this church.
Magnificent Seven Years - In 1983 and 1984 we had seen a very gradual growth. The seven years from 1985 to 1991 was a period of great growth of the Church even though very strong and adverse winds were blowing against it. We had a pressing need for funds at that time. The Lord opened the door for a missionary tour abroad. Pastor A. C. George of the IPC Church in New York and his sister in Bangalore were the people whom God used as the channels for this. As a result of that we received some funds. The structure of a two-storied building was our vision. The Lord gave us clear guidance about that and we started the construction of a double story building as per the plans given by the Lord in a vision. Though we were short of funds we decided to construct an extendable building with seating capacity of 1500 if land was available. We put our faith in Him and confidently ventured into construction of the building. On the afternoon of 8th December 1990, the Spirit of God asked me: "Do you desire for a greater ministry or do you want to remain satisfied with what you are doing now?"
Willingly, I opted for a greater ministry.
In that case, I was told, I will have to face trials, imprisonment, and even court cases. But I was also given the assurance of 'God's protection' and a sure 'victory' at the end. Events of this particular prophecy began to unfurl from the morning of 7th January 1991. Government officials raided my house and took into custody whatever records and documents they could find. Misappropriation of foreign funds was the major accusation against me. By God's grace, no allegations stood against me. Those who had taken me into custody returned me to my home that very afternoon. On 14th September 1991, the building was dedicated. But by December 1991, we realised that even this new hall was insufficient for the gathering as it was filled to its capacity by then. Thus, we felt the need for a bigger hall to accommodate the people increasing in number day by day.
We began to pray for a hall that could accommodate at least 1500 people. The plot adjacent to the church building was available for purchase, and we bought that in 1995. Within a year, we began the construction of a new building. This was the fulfillment of God's promise to us for 'spreading to the left and also to the right' (Is.54:3). A multi-storied building with 5 halls was constructed. At that time, 16 services were conducted every Sunday in the larger building to accommodate the growing number of believers attending services. We sought the Lord to help us enlarge our boundaries, and the stage was set for God to unfold larger plans.
The church and I thank the Lord and express our gratitude to all Pastors and servants of God for their labor, their vision, and also their priceless contribution to the growth of the Church.

Sunday Service 1 @ 08:00 am IST - watch us LIVE!
Sunday Service 2 @ 10:45 am IST - watch us LIVE!

Join BETHELITES Community
Senior Pastors Website >> www.pastormav.in